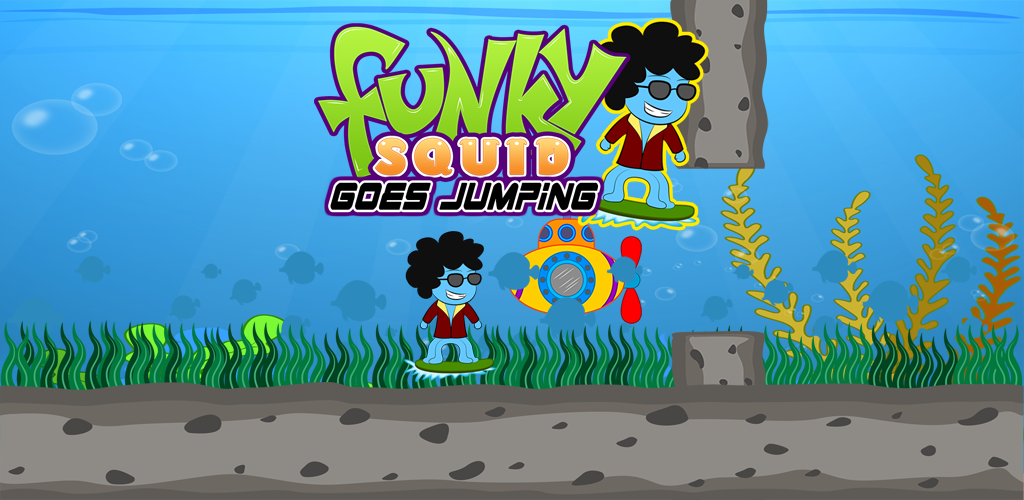 Funky Squid goes Jumping, the saga continues !
Thats right, Funky Squid is back, and is not going to take it anymore. Well, he is, sort of.
Seriously though, this game features our hero riding his underwater hover board (hey, in a game anything is possible, right?).
All you need to do is jump at the right time, and at the right height, to make it through the stone openings.
Go as far as you can, thats it.
No complicated strategies here. No analytical thinking, or detailed analysis required.

No siree, just tap, at the right time, and hold the tap to jump higher.
Thats it!
So no, its not a thinkers game 🙂 If you like to exercise your brain big time during a game (think chess) this is not the game for you.
On the other hand, if you like a game you can get into an play in a few seconds, this is it.
You know, those games where you need to kill 30 seconds. Think bank queues, when the boss is looking the other way, or, when driving home.
Ok, I am kidding about the last one. Seriously, don't do that.
What iOS devices does this support I hear you ask?
How about all of them? Yes, iPods, iPhones, and iPads all welcome here. Feel free to bring your retina!
No discrimination of any kind, you got an iOS device, we got the game.

Come party! Put some funk in your life with Funky Squid goes Jumping by downloading it today!
Funky Squid Goes Jumping – Features
SPECIAL UNIVERSAL APP
This game works on iPhone, iPad, iPad mini and iPod touch.
Plus it's 100% free so what's not to love?
How to Get Funky Squid Goes Jumping FREE?


WANT MORE FUN?
Checkout two of our other games below!